Our teachers are excellent musicians and have a passion for teaching music. You can rest assured that students will receive a balanced music education and enjoy their learning in the process! Individual tastes, preferences and learning styles are carefully considered for each student as the teacher prepares their lessons. We provide a multitude of opportunities for every kind of learner and performer.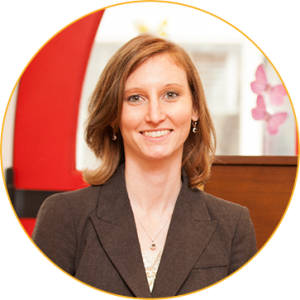 Sarah Burke, NCTM, Owner/Director
Mrs. Burke's formal music training began at a very young age, and continued through college. Sarah earned her Music Education degree from University of Valley Forge in Phoenixville, PA with piano as her primary instrument and voice her secondary, as well as a concentration in piano pedagogy. She went on to earn her National Music Teachers Certification and has been teaching piano lessons for over 15 years as well as teaching music in various classroom settings in the States and in Europe.
Sarah Burke - Owner/Director
Sarah has been the owner and director of Pineapple for over seven years and thoroughly enjoys her roles of curriculum development, planning events, overseeing staff, and working with new families. Although her background is strongly classical literature, she also enjoys playing pop music and working with chords and lead sheets. Her classroom experiences have helped her to become a creative teacher, and she is always looking for new ways to catch a student's interest or explain theory in a way that makes sense.

She resides in Franklin, TN with her husband Kyle and their three children.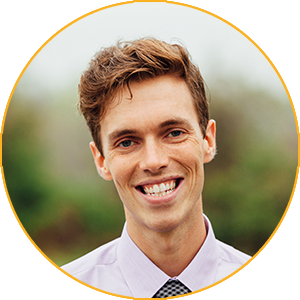 Isaac Strader, Site Manager – Piano, Bass, Percussion
Isaac has over 10 years of teaching experience in various settings and instruments such as Piano, Bass Guitar, and Percussion, as well as classes on Music Theory and Composition. Isaac's passion is to foster well-rounded musicianship in his students that will enable them to be successful at whatever musical adventure they choose to pursue.
Isaac Strader - Site Manager
Isaac Strader is a transplanted West Virginian, now living in the Phoenixville area. He is a graduate of the University of Valley Forge, having earned a degree in Music Performance with percussion as his primary instrument and piano as his secondary, also attaining minors in Church Music and Music Technology.

Isaac is also a freelance composer/arranger, Bass player for Pompton Lakes, and assists with the Percussion Ensemble at OJRHS in Pottstown, PA. His favorite things are roasting coffee, running, books, and learning new things.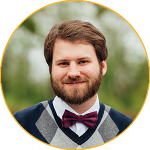 Devin Doherty – Piano, Brass
Devin has been teaching music to students of all ages and abilities for over 10 years, and has himself been performing music for over 20. Along with his primary instruments of trumpet and piano, he has prior experience teaching voice, music theory, and music fundamentals both inside and outside of the classroom. Devin's goal as a teacher is to help instill in his students a strong sense of musicianship and thirst for learning that can grow into a lifelong passion.
Devin Dohery - Piano, Brass
Devin is a graduate of Millersville University, having earned a degree in Music Education. While there, he was a member of numerous instrumental and choral performing groups. Additionally, he was a teacher in the university's preparatory music program which provided music lessons to local high school students. During his time spent student teaching at the Conestoga Valley school district, Devin led rehearsals with the high school concert band and jazz band.

Devin's passion for music keeps him busy and continues to be an active performer, having played with groups such as the Black Pearl Chamber Orchestra, Montgomery County Jazz Band, and various pit orchestras for local musicals. Outside of music, Devin enjoys staying active by skiing or hiking, and likes travelling to new and exciting places.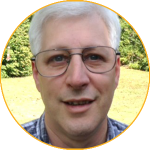 Joseph Civale – Piano, Guitar, Viola
Joe Civale has taught Music and Foreign Language at Princeton Latin Academy, SciCore Academy and Rutgers University. Besides his extensive classroom experience, he has taught piano, violin and guitar privately in the Princeton, NJ area for 20 years. A versatile and seasoned teacher with a kind and friendly manner, he truly enjoys teaching music and providing his students with a well-rounded musical education in conjunction with their instrumental lessons.
Joseph Civale – Piano, Guitar, Viola
Joseph is an experienced teacher and lifelong musician who plays piano, guitar, violin and viola. Presently he works at Conestoga High School in Berwyn, PA and continues to teach piano privately.

He obtained his B.S. in Musicology (with emphasis in Music Education) at the College of New Jersey and also studied abroad at Frankfurt University in Germany and Istituto Italiano in Florence, Italy. In addition to music, he also holds an M.A. in German Literature from Rutgers University and has taught German, Italian, and all areas of U.S. and World History in the past.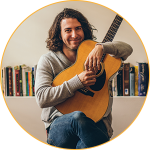 Tim Weaver – Guitar, Piano
Tim has been playing music on guitar, piano, and brass for almost 20 years. Over his musical journey, Tim has learned to compose, arrange, record, and perform various styles with different artists and bands. His goal is to instill a lifelong passion in his students for music appreciation and performance while having fun along the way.
Tim Weaver – Guitar, Piano, Brass
Tim's parents were both music teachers, so he's been reading music since the time he could read! Having played guitar since he was 11, and trumpet since he was 10, Tim has learned to understand and experience music from an accompaniment and melodic perspective in various settings.

His passion for music has led him to lead workshops, master classes for houses of worship, become a recording engineer, and engineer mixes for various musical projects. He plays guitar for local band Pompton Lakes and has performed with the Chester County Pops, Pennsylvania Symphonic Winds, the Immaculata Symphony Orchestra, and toured throughout the Northeast US during his undergrad. You can usually find Tim drinking coffee somewhere nose deep in a book or seeing a band at a concert.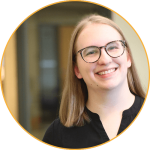 Rebekah Henry – Piano, Clarinet
Bekah Henry is a teacher and composer originally from south central Pennsylvania. She is a graduate of Messiah College with a degree in Music Composition, where she studied piano and clarinet. Her passion is finding music that every student will love and encouraging all her students to create their own music. She has taught students of all ages and levels and maintained her own private studio before relocating to begin graduate studies at West Chester University.
Rebekah Henry – Piano, Clarinet
In addition to teaching at Pineapple Music Studio, and being a graduate student, Bekah is a church musician and a freelance composer of many styles of music. On her days off, you can usually find her drinking tea, baking, and planning her next adventure.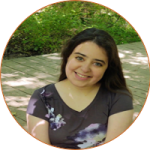 Rachel Sabella – Piano, Flute, Violin, Voice
Rachel Sabella is a teacher and singer/songwriter from Southeastern Pennsylvania. She is a graduate of Temple University with a degree in Music Composition, where she studied piano, violin, and conducting. She has produced two full length albums and continues to write and perform in the local area. Her passion is giving every student the opportunity to learn music in a comprehensive and fun way. She has taught students of all ages, levels, and abilities, and strives to give her students the tools and motivation to become the musician they want to be!
Rebekah Henry – Piano, Clarinet
In addition to teaching at Pineapple Music Studio, and being a graduate student, Bekah is a church musician and a freelance composer of many styles of music. On her days off, you can usually find her drinking tea, baking, and planning her next adventure.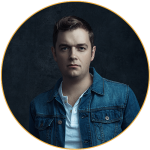 Jonathan Jackson - Piano & Guitar (TN)
Jonathan has been teaching private music lessons for over ten years and has a degree in music and piano performance from Indiana University. He has worked with students of all ages and ability levels and is passionate about helping students discover the joy of music.
Jonathan Jackson
Jonathan is also a songwriter and has written with artists such as Citizen Way, Matt Hammitt(Sanctus Real) and has shared the stage with performing artists such as Danny Gokey, For King and Country, Sarah Reeves and more. Jonathan and his wife Elizabeth live in the Nashville area and have 2 kids.